TAMPA, Florida, March 14, 2018 /PRNewswire/ — David "The Bullet" Smith broke his GUINNESS WORLD RECORDS title for Greatest Distance Travelled as a Human Cannonball for the launch of Xbox upcoming game, Sea of Thieves.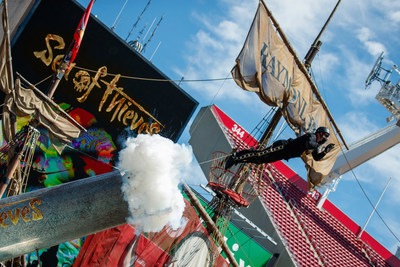 David launched 195 ft through the air out of the Xbox Pirate Blaster, a 34 foot long cannon at Raymond James Stadium, breaking his former GUINNESS WORLD RECORDS title of 193.8 ft. The flight was a wild ride for David who was in the air for about five seconds before an impact stop on the landing airbag. Fans tuned into this livestream via Mixer Xbox Channel, and left motivating comments for Dave throughout this extremely fun and interactive event.
Sea of Thieves will be available on March 20 as part of Xbox Game Pass where fans can use their own cannons to take down enemy ships. Cram your pirate into the cannon, take aim at your destination, light the fuse and enjoy the ride! Sea of Thieves is available for pre-order in the Microsoft Store now and allows gamers to experience a rich, fantastical world filled with pirates, danger and discovery – all in native 4K and HDR!
To learn about other amazing gaming record titles, read the Guinness World Records 2018 Gamer's Edition book.
Media Contact: Erica Teller, 212-774-6829, eteller@endeavorco.com
Video – https://mma.prnewswire.com/media/654056/SOT_Human_Cannonball_Launch_Broll.mp4
Photo – https://mma.prnewswire.com/media/654051/Sea_of_Thieves_Human_Cannonball_Launch_Xbox.jpg