PARIS, January 31, 2018/PRNewswire/ —Following the recent merger of NetBooster and Artefact, the company decided to increase its share capital to globally support their full-service offering, combining marketing, consulting and technology. The agencies will regroup under the same name – Artefact – to embody and develop their new positioning in the market.
NetBooster SA, a leading independent international agency in digital performance marketing, announces the success of its capital increase. The group reveals also reveals its new global name and tagline: Artefact – Marketing Engineers, embodying the profound transformation undertaken in recent months. Changes in governance have also been decided. All these announcements represent the official launch of the 2018-2020 strategic plan.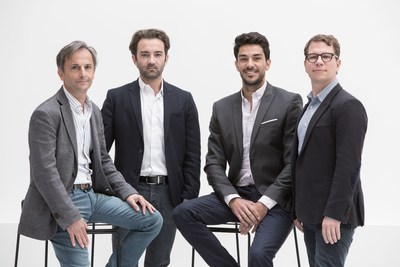 (Photo: https://mma.prnewswire.com/media/635770/Artefact_marketing_agency.jpg )
(Logo: https://mma.prnewswire.com/media/635771/ArtefactLogo.jpg )
€15 million raised to support international development
The success of this operation provides the Group with a new growth lever to realise its 3-year ambition following the previous announcement of doubling the turnover. It will allow Artefact to reinforce its team of experts around the globe as well as increasing its R&D and proprietary technologies investments in order to maintain and support technological advantage in France and abroad. With the funds raised, Artefact will be able to consider new acquisition opportunities likely to extend its field of expertise and its geographical reach to sustain profitability and ambitious growth.
NetBooster rebrands and changes its name to Artefact
This rebranding is a natural consequence of the company's ambitious strategy to become the first global agency focused on providing strategic digital marketing consultancy nested in data and artificial intelligence. Artefact aims at being a strategic partner for brands looking to streamline and optimize their marketing strategies.
A change in management

François de la Villardière, former president of NetBooster Group will keep his position as Chairman of the Board. Guillaume de Roquemaurel and Vincent Luciani will be leading the new group respectively as CEO and COO Group. Philippe Rolet will continue his work as CTO Group.
About Artefact
Artefact (formerly Artefact-NetBooster SA) is a marketing agency built on the perfect union of marketers and engineers. The agency works with the largest global brands to redefine the future of customer experience through new technologies.
The company has 25 offices across 17 countries, with 1000+ employees delivering three service offers: Data Consulting, Digital Marketing Expertise and Technology Development (Big Data and Artificial Intelligence). Artefact was awarded the most innovative agency of 2017.
artefact.com
Source: Artefact.com